To send
We ship via PostNL. The items will be shipped as soon as possible after payment has been received. On average, this is for shipping within 1 working days after payment has been credited to our account number. The status of the order can be followed via the webshop; after receipt of payment by bank, the status changes to 'Confirmed', of which a confirmation by email follows. If the order is in this status, no more changes or additions can be made. When the order has been shipped, we will send an e-mail stating that the order has been shipped with a track & trace number. After this mail has been received, in 98% of the cases, the package is offered within 2 days (Monday to Friday) at the indicated address in the Netherlands and Belgium.
If you see that an item is temporarily sold out, your complete shipment will not be sent until that item is available again. Normally we expect to have items that are temporarily sold out in stock again within a week, unless a date of expected delivery is stated. If it takes longer than a week, we will contact you about the order. In the unlikely event that an article appears to be out of stock, we will of course try to inform you as soon as possible, this can be by telephone or e-mail.
The Netherlands up to 10 kg kg. € 4.75 *
Belgium & Germany up to 10 kg. € 6, - *
Euro zone 1 to 10 kg € 9.95 *
Euro zone 2 to 10 kg kg. € 20, - ***
Euro zone 3 to 10 kg kg. € 27, - ***

* Shipping costs include 21% VAT
** For these countries additional customs costs apply, these are on request and depending on the order value.
Not at home?
If a package cannot be delivered to you on Monday to Friday, you will find a note in the box with a telephone number. You can make a new delivery appointment there, which can be an appointment for the next working day at the earliest. After you have received the "not at home" message, you have 5 days to respond to PostNL. If they do not hear from you, the package will be returned to WinterSport-Store.nl. If we still send it to you, you will have to pay the shipping costs again.
Delivery to an alternative address
If you are largely not at home on working days, you can give us an alternative delivery address, such as your work address or the address of a family member. You can also indicate this yourself when you create your address details with us.
Indicate shipping day
We are happy to contribute to the smoothest possible dispatch of the order. If you are always at home on a particular day, you can indicate in the order that we will send it the day before so that you can normally assume that you can receive it on your possible day off. You can easily indicate this yourself in the comments to the order.
Is there something wrong?
If something has gone wrong with the contents of the package, we ask you to contact WinterSport-Store.nl by e-mail [email protected]
Returns:
WinterSport-Store.nl accepts the following returns, provided that they are returned within 14 working days, accompanied by the original packing slip and, if possible, in the original packaging: * Each item in its original, undamaged and unused condition. WinterSport-Store.nl does not accept returns of shipments that are insufficiently stamped. You must pay the costs for the return shipment yourself. You also bear the risk of return shipment. After your order has been received, WinterSport-Store.nl will refund the goods amount and the original shipping costs within 30 days.
Returnista
We have recently started working with Returnista. This is a company where you can easily return your ordered package or have it picked up by Returnista in collaboration with DHL and UPS.
How does this work?
Go to the website: https://wintersport-store.returnista.nl
Fill in the return form
Schedule your pick-up appointment or choose where you want to drop off your package
Choose a date and time that suits you best
You don't need a printer
Pay easily via iDeal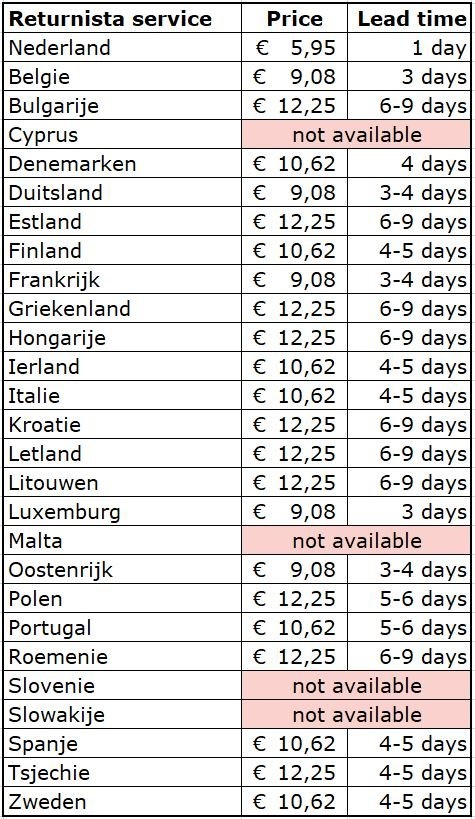 Returns address:
Wintersport-Store.com
Polanerbaan 13L
3447 GN Woerden
the Netherlands
Account number: NL91BUNQ2042012939 attn. Sports Online BV
Codes for payments abroad:
IBAN number: NL91BUNQ2042012939
BIC: BUNQNL2A
Refund term:
The entrepreneur will reimburse all payments made by the consumer, including any delivery costs charged by the entrepreneur for the returned product, without delay but within 14 days following the day on which the consumer notifies him of the withdrawal. Unless the entrepreneur offers to collect the product himself, he may wait with paying back until he has received the product or until the consumer demonstrates that he has returned the product, whichever is the earlier. The entrepreneur uses the same payment method that the consumer has used for reimbursement, unless the consumer agrees to a different method. The reimbursement is free of charge for the consumer.